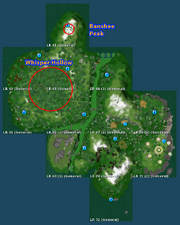 Procedure
Edit
Head north out of Whisper Hollow toward the northernmost sim of the island. The snowy mountain there is Banshee Peak. Once you arrive here the quest is complete.
Flavor Text
Edit
"Tyrah: Rock monsters made of snow? The winds up there must be playing with your eyes. Let's try another vantage point closer to the basecamp." "Tyrah: There's another mountain at the center of the island, just north of my basecamp. Climb to the summit and see if the view is any better there."
Access quest 7: Climb to the summit of Tyrah's Peak
Ad blocker interference detected!
Wikia is a free-to-use site that makes money from advertising. We have a modified experience for viewers using ad blockers

Wikia is not accessible if you've made further modifications. Remove the custom ad blocker rule(s) and the page will load as expected.